Each vintage of The Black Bottle comes into the world like a newborn with its own unique needs and characteristics. For the new harvest we draw upon old world winemaking traditions and the best new practices which flow from innovation and hands-on expertise.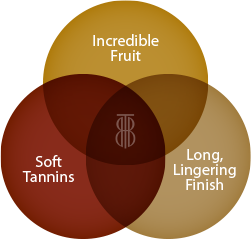 No matter the vintage or vineyard each bottle of The Black Bottle is crafted with a focus on 3 enduring aspects, which we call "the Trinity of Perfect Balance".
This delicate and intricate balance—done entirely by taste and not by science—creates the hallmark signature for The Black Bottle.
---