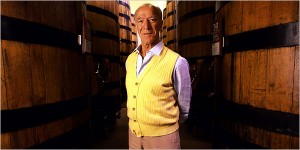 Last week marked the 100th birthday of Robert Mondavi, a man who envisioned what the California wine industry could become.
Mondavi was born exactly 100 years ago but his legend – and the wine business and brands he created – still fascinate. In fact the Mondavi story is replete with bigger than life elements, one about a feuding family which formed the basis for a real-life TV soap opera (Falcon Crest) and  the other an impressive tale of a man who was one of the most influential figures in the history of the Napa valley.
Though I spent many hours talking with him I have to say he was always somewhat of a mystery to me. He seemed alternately bold but very sensible at the same time. This man not only created the biggest fine wine business in California, but had enormous impact on the social and cultural aspects of how we view and drink wine in America.  In fact Mondavi was famous for promoting wine as part of the good life and elevating wine from a special occasion beverage to an everyday libation with good food.   He and Julia Child started the American Institute of Wine and Food with the goal of introducing Americans to the pleasures of the table.  From what I know Mondavi was a very generous man as well as being an innovator. I've heard he helped many winemakers in the Valley and even loaning them equipment when needed.
UC Davis, which greatly benefited from Robert Mondavi's vision and generosity is celebrating his centennial milestone with a new university library exhibition.
The show, Robert G. Mondavi: Celebrating the Good Life, marks the unveiling of the Mondavi Papers collection.  The exhibit is open to December 2013 and free to the public during library hours.
In the end all one can say is Robert Mondavi was a truly remarkable man, foibles and all.  He was a signal and iconic figure capable of elevating the wine business from producing cheap table wines into one of America's most luxurious and sought after products.